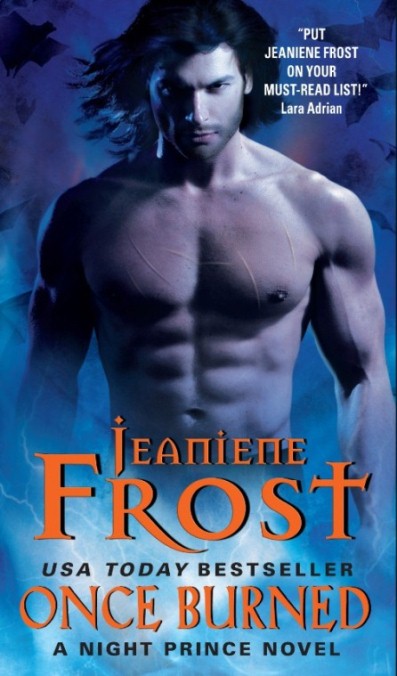 Title: Once Burned
Author: Jeaniene Frost
Series: Night Prince series book 1
Genre: Urban Fantasy (Vampires, Ghosts, Ghouls), Romance
I love this book but it's such a Cliff Hanger!
Leila, a circus performer, had an accident that gave her powers that changed her life. She electrocutes everyone she touches and she can see the past and the future by touching a person. Other than changing her life, her powers seems to be a prize for every vampire, leaving her in danger. She was kidnapped to look for a fire wielding vampire, Vlad. Rather than ratting out Vlad's location, she asked for his help. Now, working together, Vlad and Leila needs to look for Vlad's enemy to save both their lives. However, the man who sworn that he would never love again seems to be falling for Leila, hard.
I LOVE VLAD SO MUCH!
I was so excited to read this book. Vlad has been one of my favorite characters (like Ian and Bones). Even though, I want Vlad to be single and all, I'm just happy he has his own book. >.< Unlike Spade and Mencheres' books, Leila is the only narrator her which is so nice because I don't really know how Vlad feels (just like with Cat and Bones). Vlad's thoughts remains a mystery all through out, making him more sexy >.<.
Another good thing about this book is that, Leila isn't really converting Vlad, like what happened with Mencheres and Kira. Vlad is the same ruthless & unforgiving hot guy even if Leila is in his life. Also, we already know that Vlad has this soft side which he showed Cat so it's nothing really new. (I FREAKING LOVE THIS DUDE, I wasn't able to put down my book after reading the first few chapters)
I love Leila because unlike Kira (Sorry I keep bad mouthing that book but it was just so horrid), Leila has a good organization of character. I like her strong will and her FREAKING POWERS are awesome as hell. Also, she ain't that much of a drama queen. She puts up with Vlad even is he has a lot of issues.
The only bad side about this book is that it's such a cliff hanger!!! I need to read the next book! (when I get a copy of it) Also, I'm so embarrassed by this cover...
Rating: 6/5