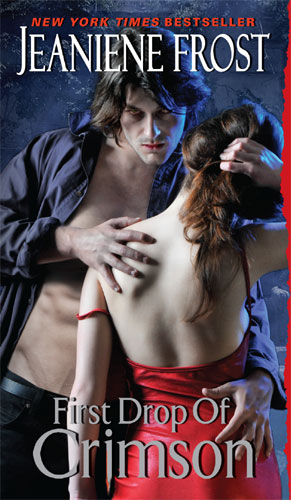 Title: First Drop of Crimson
Author: Jeaniene Frost
Series: Night Huntress World series book 1
Genre: Urban Fantasy (Vampires, Ghosts, Ghouls), Romance
Denise, Cat's best friend, separated herself from the supernatural world after her husband, Randy, died. She's trying to cope with his death by going through her normal life. However, the supernaturals won't leave her alone. Her family members are dying one by one. A demon shape-shifter,Raum, is out to get his retribution from Denise's family. With Denise's connections, she is the only one who can look for Nathaniel, her ancestor demon, before the demon mark spreads to her body and Raum kills the rest of her family. She will need the help of Spade to finish this task. However, no matter how much she tries to detach herself to the man she sworn never to love, she is actually falling hard for him. Denise doesn't really know if she could finish this task before completely falling in love with a vampire.
After finishing Bones & Cat's book, I jumped back to read this one so ya all the surprises are not surprises anymore. (I promise to give a review for the Night Huntress Series when I get to read it the 3rd time. Yes, it is that awesome!)
I love the idea of this book but the progress of it is just so slow for me. Not much really happened in the first few ones, Spade just tries to seduce Denise while Denise is in denial. Only by the last part did everything gets interesting. Where in Cat uses her powers (ya i know this isn't really her book but she is just so awesome) and Denise tried to save her relative's life. The part where she turned into a cat was super funny. Spade was so freaking cute with worry. Though the lacking part is that there is too little transformation of Denise, other than the a cat and a demon that's it. I read the next few books and I know what the extent her power is but it wasn't really quite shown in the book. Also, there are not much risks that happened. Risk where in Spade would go crazy because Denise might die or something. The Hero Juice that's what I mean.
The irritating bit about this book is the constant denial of Denise to everything that is happening. I mean open your eyes girl. By the way, in this book, you get to see the perspective of both Denise and Spade. I think this is the author's way to be able to incorporate everything about the character in one book.
This book is not that great and not that bad. I think the author just wants to give Spade's fans something to shriek about. I'm going for Kira's book next, hope that one is better.
PS: sorry about the short review; school work has been like hell. I just got this one in my goodreads account because I don't really find this book worth rereading to make a new review. (Night Huntress is worth it though)
Rating: 5/5