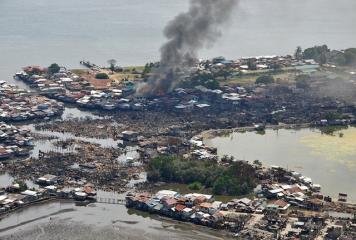 Hello,
I hope you guys are aware of what is happening to Zamboanga, Philippines. Thousands of people are being evacuated because of the tension between the MNLF and the Philippine military. Multiple properties are being destroyed. Innocent people are getting injured and some are even dying. Schools, shops, etc. are all shut down. Everyone is afraid for their own and their love ones lives.
Most of the evacuated people are currently staying in evacuation centers, like covered courts, leaving behind everything they had. They are in dire need of help. It's not like we need to give them money to be able to help. Any form of help is really appreciated, like food, clothes, medicine, toys, school supplies, etc.
These items would greatly help the people in need and somehow this will lift their hopes up that people are trying to help them.
Since my financial state does not permit me to give money donations, I thought of giving them something that I have, my books. Most of these books are given to me through giveaways. I really don't have the interest in reading them and was planning of selling them to make some money. However, I think the people in Zamboanga, mostly the children, are in more need of these. I know it's not much but I hope that I could help them in anyway that I can.
You may ask why can't I just give them stuff like clothes. I don't really have clothes that I could donate anymore because most of my old clothes were donated during the
habagat,
last year.
Hope you guys could help out too! Any help given no matter how small is appreciated :) Through my blog, I hope the I could help out a little, no matter how irrelevant or small my blog is.